Automobile Automation System Project - Download Project Source Code and Database
Subscribe our YouTube channel for latest project videos and tutorials Click Here

In this modern era, transportation has become one of the most critical needs of human beings. Though it has several requirements, we also face lots of trouble, which even costs human life. In our website students can get all premium projects and also get java software projects.
The Automobile automation system major project for Automobile Services is a progressive step in the field of service centers and garages. Any car user can make use of this website to locate and communicate with the service centers or garages in their vicinity. This project uses innovative technology that connects you with a Mechanic at the tap of a button.
The automobile automation system college project is a windows application which aims to minimize the effort put in automobile management. It manages all the transactions related to Vehicle servicing, fueling, finding small parts, and finding a mechanic, etc. In this software, there is an Admin. Admin is allowed to add new users to the system.
Guests can use the project only after they are registered to the system. While Register,
A Guest User can register as
There are 8 modules in this project.
Login/Registration
Profiles
Vehicles
Fleet Management
Booking Charts
Expenses
Reports
Feedback
Registration for the new user will be available on the login page, and listing for employees can only be done by admin. And driver registration can be done by both admin & employee.
Objectives of Automobile Automation System Project
This application aims to reduce the manual effort needed to manage the automobile for a customer.
The application provides an interface to users to view details like Trans Vehicle details, Vehicle Booking, Profile Management, Repair and Maintenance schedules, Expenses Details, Daily Reports, and Feedbacks.
Increases the prosperity of a customer by reducing the cost of purchasing different software for different tasks.
To ensure a one-stop service to the client regarding automobile management.
The automobile automation system project has a rich user interface so that users can access the application easily. Several user-friendly coding has also adopted. This package shall prove to be dominant in satisfying all the requirements of the customer.
Latest Automobile Automation System Project Source Code and Database
All Automobile Automation System Project Topics Project Source Code Download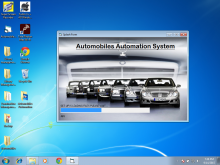 Posted By freeproject on Tuesday, September 15, 2015 - 22:00
Visual Basic Project on Automobiles Automation System Automobiles Automation System has been developed on Visual Basic 6 and SQL Server 2000 Database. Here Student can get all types of visual basic sql server projects with source code download for final year students. The main objective to develop the project Automobiles Automation System is to manage the records of Automobiles Industry online...